---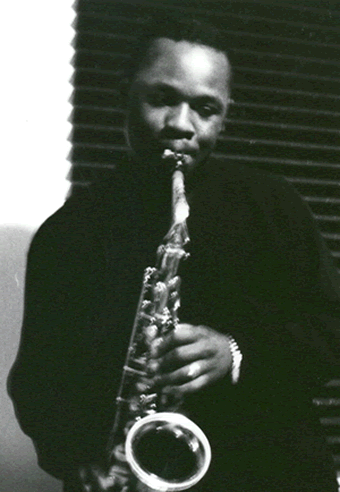 Antonio "Hot Potato" Parker
Antonio Parker is one of the promising up and coming voices of his generation. An educator as well as a saxophonist and composer Antonio is making a definitive mark for himself in the jazz arena. His music reflects a genuine sense of jazz tradition, combined with a unique approach to improvisational expression. Better known as a "Straight Ahead" jazz artist, Antonio is equally competent in other styles of music and performs in a variety of musical contexts ranging from Concert Music to Funk, Latin and World Music to Contemporary Jazz sounds. Although he currently resides in the Washington, D.C. area, his reputation precedes him as an accomplished musician who continues to grow and expand his musical horizons.
Antonio has performed in many venues throughout the United States. He has also performed on the international stage, and was selected as a U.S. Jazz Ambassador to Africa in 1996. He performed, lectured, and conducted workshops on jazz music in seven countries including Nigeria, Ghana, Togo, Congo, Zaire, Morocco, and Tunisia. He recently completed a European Tour in London and Scotland with the former members of The Blackbyrds and he performed in Martinique, France as a member of the Howard University Jazz Ensemble (HUJE). He leads the Antonio Parker Quartet, which currently performs throughout the Washington, D.C. area and is also currently developing a world music group as well as a contemporary jazz group all of which will soon be releasing forth coming CD's on his independent recording label "Interchange Records". Additionally, he has done various recording projects, some of which include recordings with Debbie Kirkland, Keith Killgo of the "Blackbyrds", Michael Thomas and Karen Francis. His debut CD project will be released this fall.
As Founder and CEO of "Parkers Mood Productions, Inc.", Antonio is currently producing various recordings, which will be released in the coming year. His debut CD titled "The Exchange" will showcase his musical abilities as an artist, composer, arranger, and producer. The music on this project reflect the music's of the world cultures and feature musicians such as Vince Evans, Vinny Valentino, Joseph Chisholm, Sam Turner, Patrick DeSantos, Imani Gonzales, Keith Killgo, and Lenny Robinson. Antonio is also currently writing and producing a children's album, which will feature student choirs of the District of Columbia public school system. Throughout his musical career, Antonio has performed with a variety of renown and accomplished musicians including: Betty Carter, Illinois Jaquett, Wynton Marsalis, Christian McBride, Joey Defrancesco, Marlon Jordon, Roy Hargrove, Antonio Hart, Billy Hart, Gerry Allen and many others.
© 2000 JazHead Entertainment
All rights reserved
---