---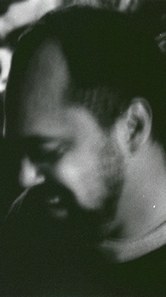 Darius "I've Got a New Baby" Scott
Darius Scott was born in Ithaca, New York, grew up in Boston, Massachusetts and has been living in Baltimore since 1983. As a relative newcomer to the study of music and jazz, He has drawn from the knowledge and encouragement offered by members of Baltimore's jazz community (both musicians and enthusiasts) and worked to learn the piano styles and to maintain the grooves so critical to a solid jazz rhythm section.
Although his parents both enjoyed music, especially jazz, Darius never learned to play the piano as a child. He always liked music, but in school seemed more interested in athletics as an extra-curricular activity. This trend continued into college where he studied engineering and played division 1 soccer. But college was also where he found out it might actually be possible for him to learn an instrument. When an injury sidelined him from soccer for a season, he signed up for a "keyboard awareness" class and accidentally discovered the ragtime piano music of Scott Joplin. Having learned just enough from the class to be dangerous, Darius found that he could memorize a number of Joplinís rags and find true enjoyment in playing them over and over until no one else around him could stand it. Joplin's music was so enjoyable and intricate that it was enough to keep him occupied for several years. It was during this period that he discovered he had an interest in learning more about the piano and jazz music.
After he had begun to listen to his parents old jazz records and to go to the Jazz Closet on Franklin Street in Baltimore, Darius let several years pass before making a move to study the piano, and when he finally did, he went straight to jazz. He took lessons for about 2 years and performed for the first time ever in an ensemble in 1990. Since then he has been privileged enough to learn from and perform with many east coast jazz musicians, including Lawrence Wheatley, Bob Butta, Ruby Glover, Gary Thomas, Ed Wiley Jr., Chris Battistone, Chris Bacas, Phil Cunneff, Tom and Whit Williams, Roy McCoy, Dontae Winslow, Steve Novosel, James King, Michael Thomas, Tom Baldwin and Paul Gill to name a few. In 1993 he founded the Resolution Jazz Group , which was born at Funk's Democratic Coffee Spot in Baltimore's Fell's Point. With his group and others, Darius has performed at various local and out of town venues such as The Kennedy Center, Lisner Auditorium, Blues Alley and One Step Down in D.C., The King of France Tavern in Annapolis, The New Haven Lounge in Baltimore, S.O.B.'s in New York City and The Balcony in Pittsburgh. He has had privilege of performing with accomplished jazz performers including Gary Bartz and Talib Kibwe and has even performed with the veteren R&B group The Drifters. In late 1998 Darius played with Brenda Russell in Barry Levinson's film "Liberty Heights" which is now in major theaters. Now you can say he's been in pictures! (watch during the final scene) How 'bout that? :-)
Darius has worked regularly with several regional groups. These include a 2 year engagement with the legendary Allen Houser Quintet at Bertha's in Fell's Point and 3 years in the piano chair rotation with Baltimoreís piping hot latin-jazz group Rumba Club. He also performs as featured accompanist for the National Tap Ensemble. He currently performs regularly with the Todd Butler Group, D.C.'s Popular Latin Jazz Group La Jazz lead by Timbalero Paul Hawkins. and can also be seen with The Al Maniscalco quartet and The Michael Thomas Quintet.
Strongly inspired by the 'comping and solo styles of Horace Silver, Red Garland, Wynton Kelly, Bobby Timmons, Bud Powell, Bill Evans and Thelonious Monk, Darius continues working toward developing his own voice on the instrument and always "improve the groove".
© 2000 JazHead Entertainment
All rights reserved
---