---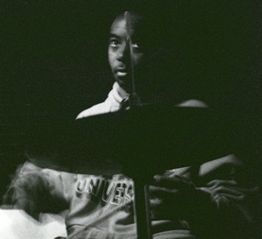 Frank "Spark Plug" Williams IV
Whether it is from the Washington Convention Center stage, an intimate nightclub in New York City or before a crowd of thousands at the East Coast Jazz Festival, musicians and critics alike has welcomed a new flavor into the world of Jazz. Drummer and Percussionist extraordinaire, Frank T. Williams has garnered respect from fellow jazz musicians and critics around the country.
Born in St. Petersburg, Florida, Frank Tecumseh Williams, IV was introduced to the world of music at an early age by his father who is a music educator. At the age of 5, he was given his first drum set and had been in love since. John Lamb, the bassist for the legendary Duke Ellington, introduced a young Frank to his first view of JAZZ in 1981. Years later, while nurturing that first glance into the world of Jazz, Williams witnessed the unparalled sounds of the Wynton Marsalis Quartet. As a Result, Frank's passion to create and perform Jazz was forever ignited.
Since earning first place drum soloist recognition in competitions like the Count Basie Orchestra/Hampton University Jazz Competition and the University of North Florida Jazz Competition had become the norm, Frank decided to toss his drums into the professional ring.
Frank has played and toured with Scotty Barnhardt of the Count Basie Orchestra, Marcus Printup and the renowned Douglass Carn. In addition, Williams has performed with such legends as John Lamb, Wynton Marsalis, Nat Adderly and Marcus Roberts.
Besides touring with Barnhardt, Printup and Carn, Frank has performed with his ensemble to rave reviews at the Sarasota Jazz Festival, The Martin Luther King Jazz Festival and Washington, DC's Twins Lounge. Mr. Williams lectures on Music and Jazz History. Individual and group lessons are given on all percussion instrument.
Frank is endorsed by Grover Pro Perscussion/Silver Fox
© 2000 JazHead Entertainment
All rights reserved
---